About Us
What? Why? Children in Hospital was founded in January 2015 by Marit Boot. There is now a team of enthusiastic trustees of the board who support and provide governance to the work of the organisation. What? Why? Children in Hospital is a registered Scottish Charitable Incorporated Organisation (SCIO) with charity number SC045436.
Dr Marit Boot, Founder
Marit has seen parents and children struggle to take in information when they are in a stressful and emotional situation in hospital. Marit founded What? Why? Children in Hospital as she thinks it is essential to offer children and parents visual information to prepare them for hospital. Marit leads the development of the charity, oversees fundraising and directs the film projects. She previously worked in the NHS as Programme Manager for the Visual Impairment Network for Children and Young People (VINCYP), Network for Children with Exceptional Healthcare Needs (CEN) and as Efficiency Programme Manager in the finance department in NHS Lothian. Marit has extensive experience in research, audit and evaluation of services. She also worked for the Scottish Government and the Medical Research Council and she holds a PhD degree in Medical Biology from Leiden University, the Netherlands.
Claire Edwards, Chair
Claire joined as a trustee because she believes that parents and families need information that is relevant to them and which acknowledges the emotional impact of what they are going through. Like Marit, she has direct experience personally and professionally of the hospital environment. As Training Manager and Director of SNIP (now Kindred) at the Royal Hospital for Sick Children in Edinburgh (2000–2008) and then as consultant for the Network for Children with Exceptional Healthcare Needs (2010–2014) she has extensive experience of working with parents. Claire is a qualified counsellor, trainer and consultant, working with a variety of clients in the public and voluntary sectors. From 2005–2010 she was a trustee then chair of the Care Co-ordination Network UK (CCNUK) and has been a member of both Scottish Government and Local Authority advisory groups.
Hilary Williams, Secretary
Hilary joined the board of trustees bringing experience as both a primary school teacher and a mother. She has seen the effects that an upcoming procedure can have on children and families and indeed the impact post procedure as some children who have a very difficult time in hospital can develop a lifelong fear of doctors and hospitals. Hilary has recently retired from teaching primary school pupils after a career spanning 34 years in Edinburgh. An example of how she would try to support children in early years classes who needed hospital care would be to use a role play situation using a teddy bear and other child friendly props to encourage interaction in a hospital corner. During her career she was involved in various working parties and case conferences, which included issues affecting vulnerable children. She has had extensive experience working with parents and other health care professionals during her career. Hilary is hoping her involvement will help to promote a support system for children, parents and carers who are facing a hospital procedure.
Dr Laura Somerville, Clinical Advisor
Laura joined the board as a trustee as she believes there is a need for visual information on hospital procedures suitable for children and parents. She has professional experience of the medical environment both in the hospital and community settings and has at times struggled to find relevant information to share with families when arranging and discussing medical interventions and investigations. She hopes development of information would help with communication between doctors and families. Laura is a consultant paediatrician based at the West Centre in Drumchapel, Glasgow. She graduated with an MBChB from Aberdeen University and completed paediatric specialist registrar training in the West of Scotland with a year in Christchurch, New Zealand. She has a Diploma in Neurodisability from Sheffield Hallam University and has a particular interest in children with complex medical needs. She is a member of the Steering Group for the Network for Children with Exceptional Healthcare Needs (CEN) and chairs the CEN Peer Review meetings. She is involved in both postgraduate and undergraduate medical education and is an Honorary Clinical Teacher for Glasgow University and an Educational Supervisor for community paediatric trainees.
Shona Moyes, Expert parent
Shona joined the board as a trustee due to her experiences as a mother of a disabled child with learning difficulties, who spent a lot of time in hospital during his early years. As her son now has severe anxiety about going to hospital even for routine appointments and procedures she feels passionately about there being help and support for other children and families who have to deal with hospital visits. Shona is currently a full time carer for her son but previously worked in the contract drug research industry and managed global clinical trial packaging and distribution projects on behalf of pharmaceutical companies. Shona also contributes her time voluntarily working in a hydrotherapy pool supporting children and young adults whilst receiving their therapy and provides peer support mentoring to other carers on behalf of the charity VOCAL.
Lianne Swadel, Treasurer
Lianne joined the board of trustees as she thinks videos are an excellent way of preparing children for hospital. As a parent herself she has seen the importance of staying calm and positive when your child needs hospital care. Lianne is a qualified chartered management accountant. She started her career in the private sector, where she worked for 8 years. She then took up a role in the finance department in NHS Lothian and has worked there for the last 13 years in a number of different roles. Lianne is part of the NHS women in leadership roles network. Lianne has completed the independent examination of accounts for a number of charities. She also has experience as a trustee and treasurer of the Pregnancy and Parents Centre. Lianne has been running half marathons to raise money for the Pregnancy and Parents Centre and the What? Why? Children in Hospital charity.
Videos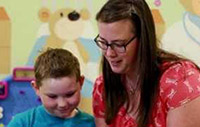 We have a number of videos that will help you and your child prepare for their hospital visit. Videos
Colouring In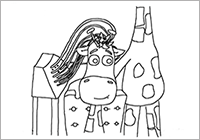 Have fun colouring pictures of Lily the Giraffe on her hospital visit. Start Colouring